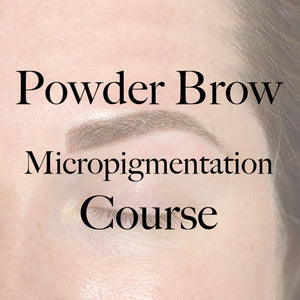 Powder Brower micropigmentation course

I promise you will be ecstatic with your decision to train through Touch of Elegance Studio and Training as we offer unlimited, continual support throughout the entirety of your permanent makeup career.
- Melissa
Course includes a complete training manual for powder brow training with all the waivers for you to use. A kit worth over $1500 (includes rotary machine, safety membrane needle cartridges, anesthetic, aftercare creams, ILOVEINK pigment set from Tina Davies, and many more procedural items that you will require to complete your appointments) as well as a certificate of achievement.
Duration
This course is a 1:1 class and can be flexible with dates.
1 day pre reading at home and 2 days in person.
2nd day of class you will have 2 models, both instructor and student led.


Deposit
A deposit of $500 is required to hold your seat in class. This is non-refundable & non-transferable and will be applied to the total cost of your course. The remaining balance must be paid the first day of class at registration via cash, etransfer, debit, or credit. If you wish to pay ahead of time you may e-transfer the remaining balance plus taxes. You can pay for the deposit here. 
Potential earnings
Average Cost of an powder brow procedure $400
Weekly Income Based on 5 Clients per week $2000
Monthly income based on 5 clients per week $8000
Annual Income $96,000
*Numbers are based on your pricing set up, your geographic location, and your client base*

All my micropigmentation courses are packed full of basic fundamentals, along with advanced techniques and information. Please do not get overwhelmed at everything you see you will be learning; I promise you will be leaving your course fully confident and ready to take on the world with your new career and skill!

Here is a list of some of the wonderful things that you will learn during your course:

Introduction 
What are powder brows? 
Types of brow procedures What is the lifespan of a cosmetic tattoo? 
Why do people choose micropigmentation? 
Skin anatomy 
Aging 
Why do we have eyebrows?  
What role do genetics play in our eyebrows? 
Facial muscles, nerves, and blood supply 
Facial anatomy vs brow shapes 
Hyperpigmentation 
Hypopigmentation 
Scarring on the treatment area 
Keloid and hypertrophic scars 
Fillers and botox 
Oily skin and large pores 
Madarosis 
Blepharitis 
Trichotillomania  
Autoimmune diseases 
Pigment migration 
Laser tattoo removal 
Saline tattoo removal 
Accutane and retinoid products 
Diabetes 
Pregnancy and breastfeeding 
Wound healing 
Lymph fluid 
Fitzpatrick scale 
Skin thickness 
Undertone vs overtone 
Color Theory
The color wheel 
Color theory 
Pigment theory 
Titanium dioxide 
How to choose a color 
What is modification? 
What is a modifier? 
Machine and Needle Theory
Needle configurations 
Needle speed 
Needle hang 
Membrane backflow 
What you will need 
Your workspace 
Your set-up 
Mapping and preparing the brows 
Anesthetic 
Stretching the skin 
Your machine 
How to clean and sterilize your machine 
Power sources 
Whip shading 
Whip shading practice Pigment implantation sequence 
Your appointment in sequence 
The color bloom 
Aftercare 
Touch-ups 
Safety and sanitization 
Business Building
Insurance 
Re-ordering product and ongoing support 
Pricing 
Congratulations and certification 
Waivers and FAQ 
Thank you so much for your interest, if you have any questions, please feel free to contact me. 
Melissa Knutsvik, Head educator